U.S. Diabetes Research and Data
Current Snapshot of the U.S. Diabetes Epidemic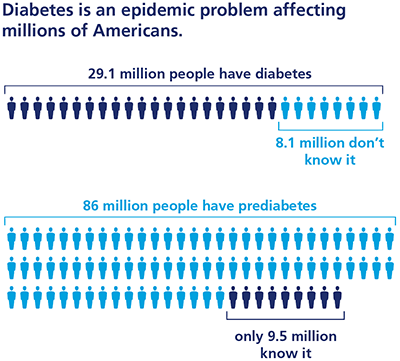 Despite all of these statistics, there are still gaps in research and data. Novo Nordisk has worked with members of the diabetes community to identify and commission research to help fill these gaps and illuminate other areas of interest for advancing public policy. Novo Nordisk is proud to commission and conduct research that helps describe and measure the problems and challenges the U.S. faces in diabetes.
---
References:
Centers for Disease Control and Prevention. National diabetes statistics report: estimates of diabetes and its burden in the United States, 2014. Atlanta, GA: U.S. Department of Health and Human Services; 2014.
Geiss LS, James C, Gregg EW, et al. Diabetes risk reduction behaviors among U.S. adults with prediabetes. Am J Prev Med. 2010;38(4):403-409.
© 2016 Novo Nordisk All rights reserved. 0415-00026489-1 January 2016